Spill Response Trailer Models
We build many different Environmental Protection Trailers, or Spill Response Trailer models, SRTxxxxx, each of which can be customized to specific requirements.
From 6'x10' Single Axle to 8′ x 30′ Double Axle trailers depending on contents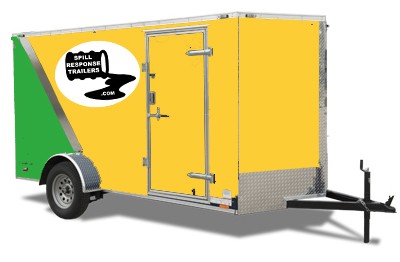 *Other colours & sizes optional, subject to availability
EZ-lube Single or Double Axle
Premium Factory Eco-Paint
HD Industrial Steel Shelving
Rear Ramp Style Door style (opt)
Side door Interior light, pad locks
Shelf tie downs, drum straps, labeling
HD Equipment Totes for loose Inventory
Emergency Spare Wheel
Trailer Immobilizer Wheel Lock
The following materials are adequate for most small hydrocarbon-only spills:
Absorbent Materials for Hydrocarbons on land and water
A variety of hydrophobic and hydrophilic granular absorbents
Various clay & wax sealants
Disposal bags
Mini Berms
Pick a model that meets your basic spill capacity requirements and go from there. Add functionality with one of our product add-on bundles.
|  Model |  Content |  Availability |
| --- | --- | --- |
| | Hydrocarbon-only 5,000 litre spills |  In Stock |
| | Sorbent Products for 5,000 litre spills |  In Stock |
| | Sorbent Products for 10,000 litre spills |  In Stock |
| | A customized seacan that allows for the management of a large hazmat spill incident involving large tankers or storage silos |  6-8 weeks |